Classes
Learn Bowenwork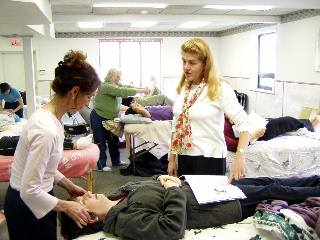 American Bowen Academy is an approved CE provider for: National Certification Board for Therapeutic Massage and Bodywork (NCBTMB) #393313-00, California Board of Registered Nursing #15344, American Occupational Therapy Association #7074, and Oregon Board of Naturopathic Examiners #PDP-BOW, for 16 Contact Hours per module.
I have been teaching Bowenwork for the Bowen Therapy Academy of Australia since 1994. I became a senior instructor in 1997 and have taught classes in Australia, the USA, Europe and South Africa. I bring my clinical experiences to the classroom, having had the opportunity to use Bowenwork in both conventional medical and naturopathic practices.
I like to travel, and am willing to come to your area, if you would like to coordinate a class and support me in recruiting students.
For more details on the Bowenwork training curriculum and certification requirements, please visit the American Bowen Academy website: http://www.americanbowen.academy/
Information on my class schedule can be found at: http://www.americanbowen.academy/classes/find-bowenwork-classes
Email: sandragustafson@bowenworkforlife.com
Phone: 707 548 3988